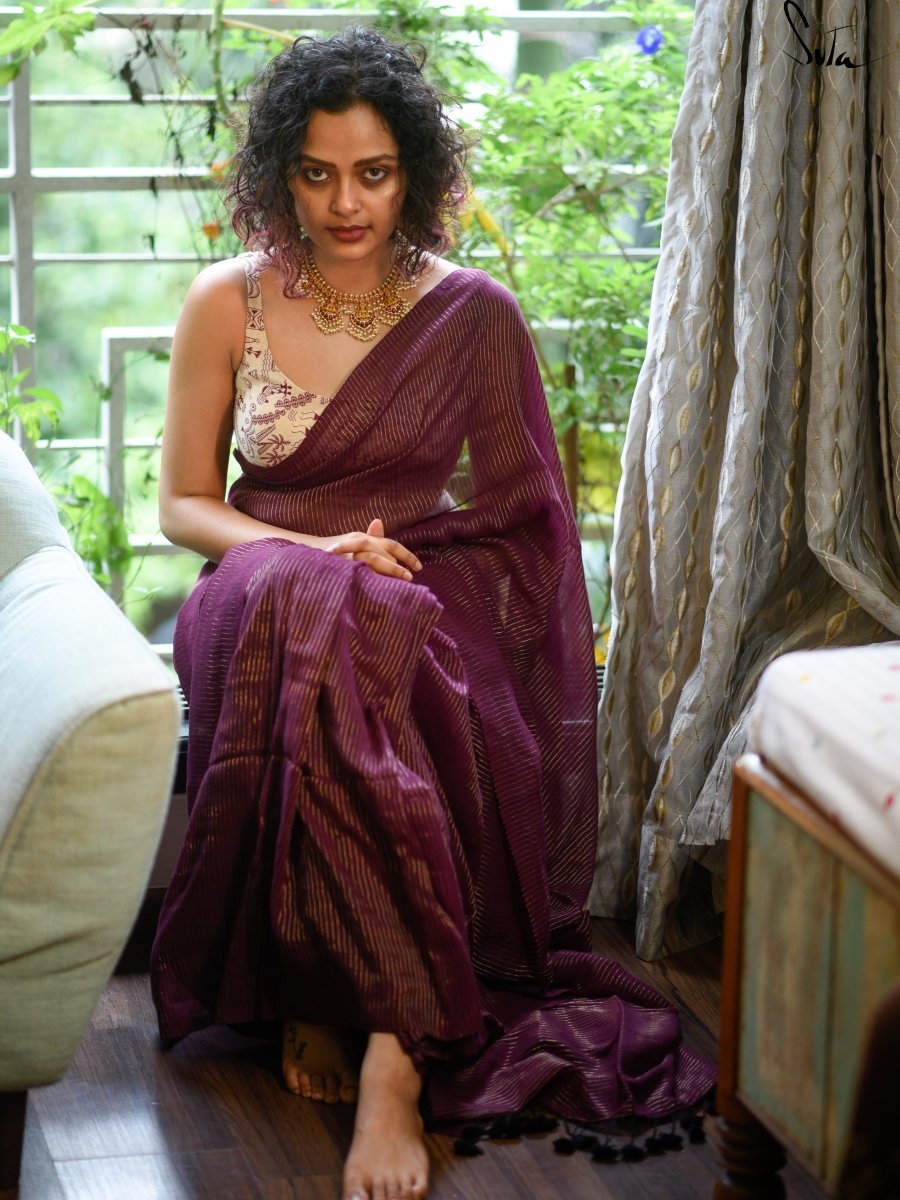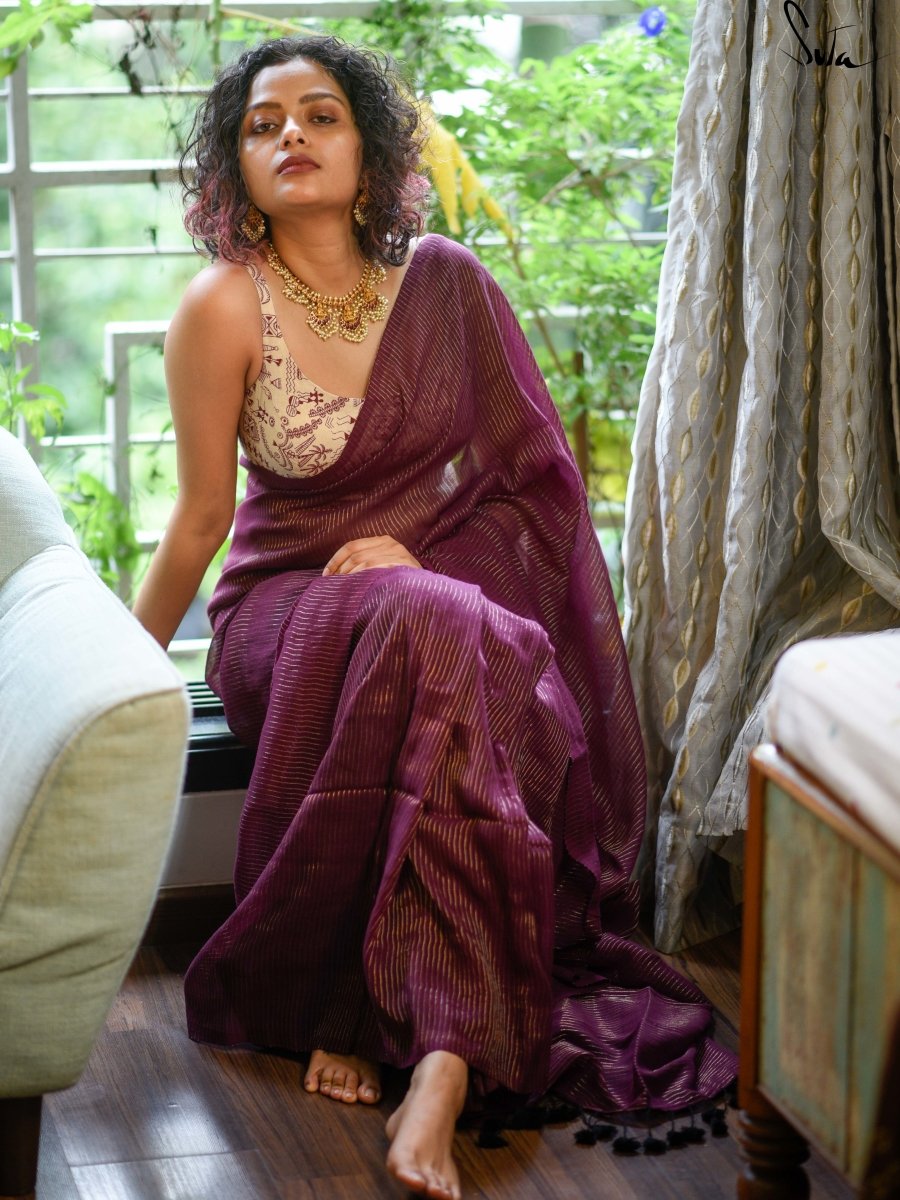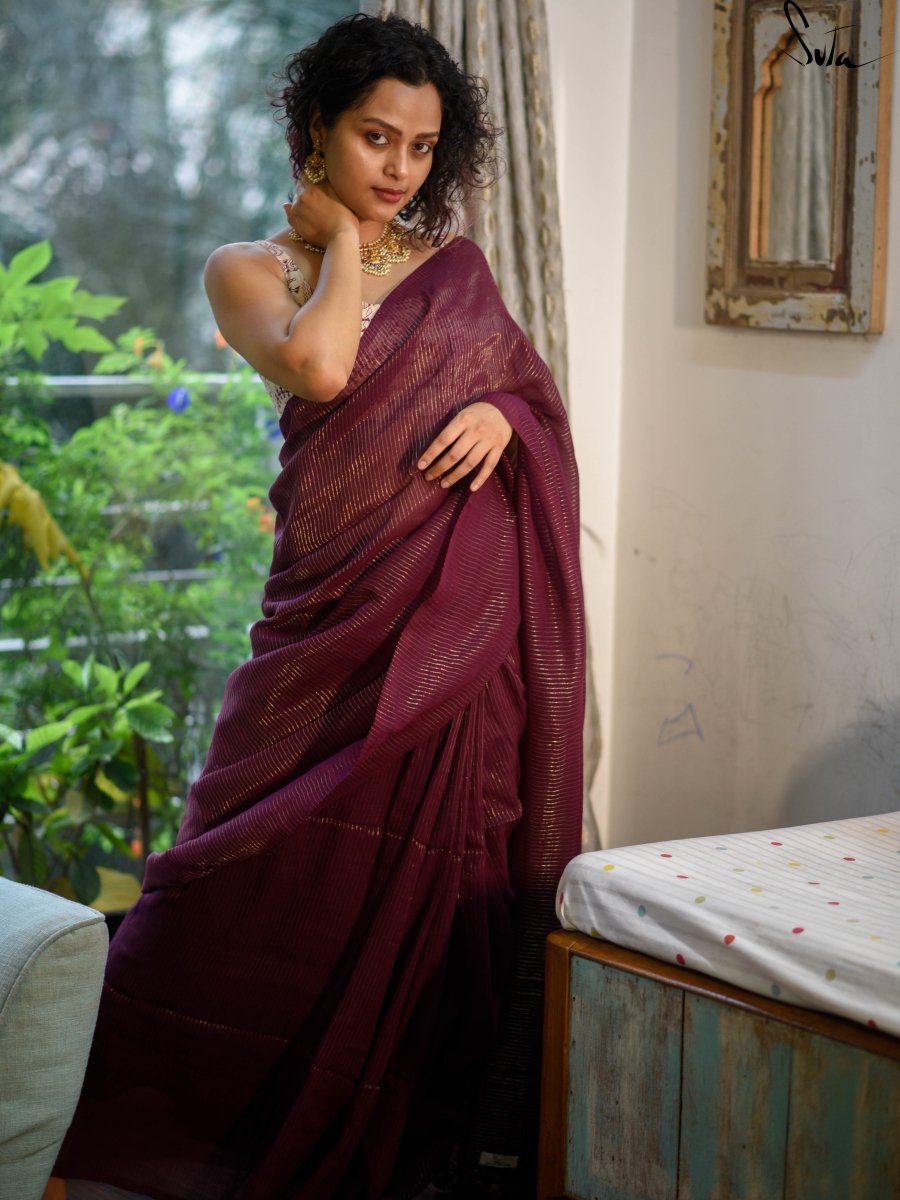 Obsessed Sitara | Relove ()
×
Liquid error (snippets/relove-variant-picker line 14): Could not find asset snippets/relove-subscription-form.liquid
---
NO ITEMS AVAILABLE
Alert me when my size is available
Details

Length:  5.5 meters ; Width: 47 inches

Blouse Piece: No

Wash Care: Dry Wash

Blouse: Su, the model is wearing a blouse Magenta village

https://suta.in/products/magenta-village-blouse

Fabric:  Handloom mul with zari

Disclaimer: The pictures are clicked in daylight. Colour may vary slightly from the image due to the screen brightness.

Story

One thought gave way to another and yet it was the same thought. She had a beacon in her mind and nothing could lure her away from that focus. People said she was obsessed but she knew of a vision that only she could see. The train in her mind was on track and she loved this roller coaster that was just her own.

This purple dream of a saree in made-in-heaven mul cotton is a must-have!

Description

The handloom cotton is a type of fabric that is woven using hand-operated looms. Two sets of interlacing yarns, the warp (length) and weft (width), are woven on a mechanised loom operated by weavers. These looms do not use electricity. Human handling lends the fabrics a unique feel and renders the fabrics more value. The resultant fabric is softer, more durable and much more comfortable than machine-made fabrics. Handloom cotton is more breathable and thus feels lighter in summers and provides more insulation in winters. The dyeing process also becomes easier for handloom cotton as the colour penetration is substantially more. Hues are absorbed better thus look resplendent on handloom cotton.

The art of hand weaving is labour intensive and takes a longer time. But, the beauty it adds to the fabric is priceless. Choosing handloom cotton supports the rich weaving heritage of India and lets the weavers carry on the precious art-form to the future generations as well.

The zari threads add the golden shimmer to the fabric in a very subtle yet beautiful way.
Choose options